We all know plastic is bad is for the environment. Is it a necessary evil? In some instances, yes. But most of the time it is a cost savings for manufacturers or a faster/easier way to get products to market. Plastic annoys us with bulletproof packaging that will not let us get to the item inside. Maybe it comes in the form of hundreds of bubble packs from Amazon. One thing is for sure. We definitely do not need any unnecessary plastic and when we find cool gift ideas that are even more cool because they don't need plastic…well that's a homerun in our book.
This year Stylguyde is trying to go green for the holidays and Bulleit Bourbon caught our eye with a gift idea for guys and gals who enjoy a tasty sip of bourbon now and then. Best part, you can even brag that this Bulleit bourbon is saving the planet and who doesn't want a gift like that.
Bulleit Frontier rye has been a go to for Manhattens and Old Fashions for as long as I was introduced to it. The perfect spirit for when you want to keep that sweetness in check. If you do prefer a sweeter or smokier libation, Bulleit bourbon can offer an intriguing twist that compliments either cocktail preference. Since it is the holidays, we are going to joyfully put our purest, bourbon arguments aside and focus strictly on the Bulleit bourbon's holiday packaging, but first, a little about the Bulleit boubon itself.
Bourbon drinkers have their favorite brands. We get it and we have ours. If you are not familiar with Bulliet and want to know where Bulleit fits in on our scale of bourbon hierarchy, here's how we break it down. Some bourbons are for shooting, some are for wells, some are for craft cocktails, and some are for sipping. Bulleit is a definite step above the well stature and fits right at home in the craft cocktail to sipping range.
Knowing where Bulleit sits on the scale, you might be asking yourself, "does it really matter what it looks like, I just want to drink it anyhow." and the only argument we will make is this. Someone over at Bulleit spent a lot of time putting together quite a package for you to enjoy and these folks, well, they should be acknowledged. So let's dive into the packaging. After all, this is what this post is about and why we took the time to write it.
The Tag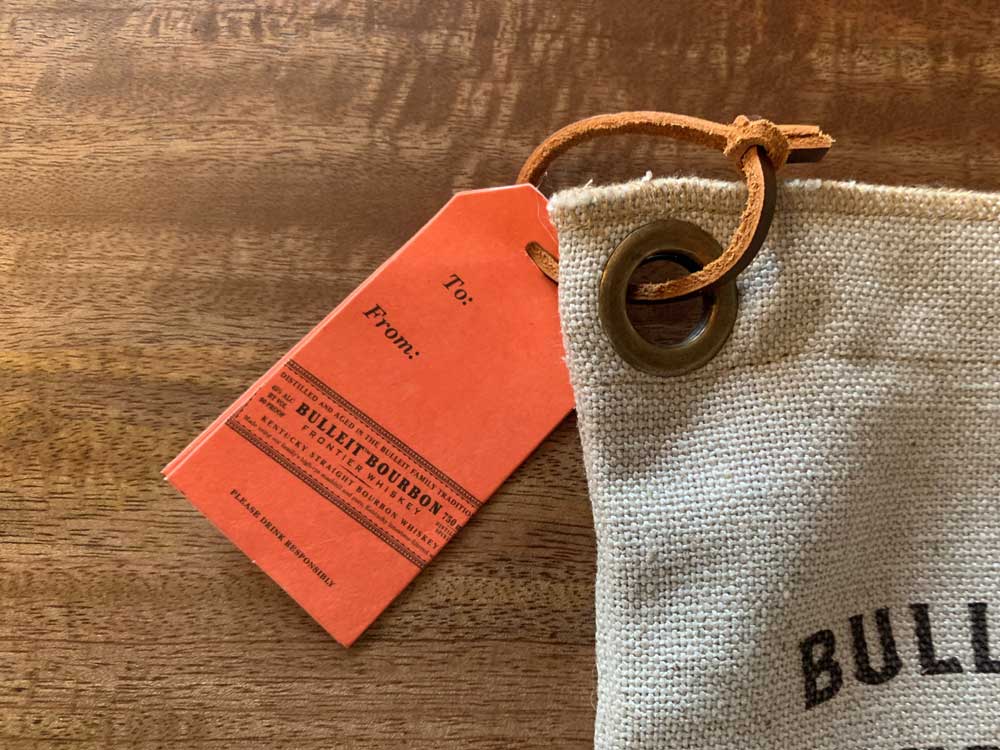 If this bottle happens to be a gift and you are going for secrecy, the branded gift tag isn't going to make it too difficult to figure out what's inside. The bottle sticking out or the Bulleit Bourbon lettering on the bag won't help the "what did you get me" cause either. The tag itself is orange paper cardstock and the artsy-slanted Bulleit Logo adds a nice touch. Had they made it out of thicker cardboard and letter-pressed it, we would have said amazing. Bulleit used a leather tie to attach it to the bag. All in all, well done!
Rugged Burlap Sleeve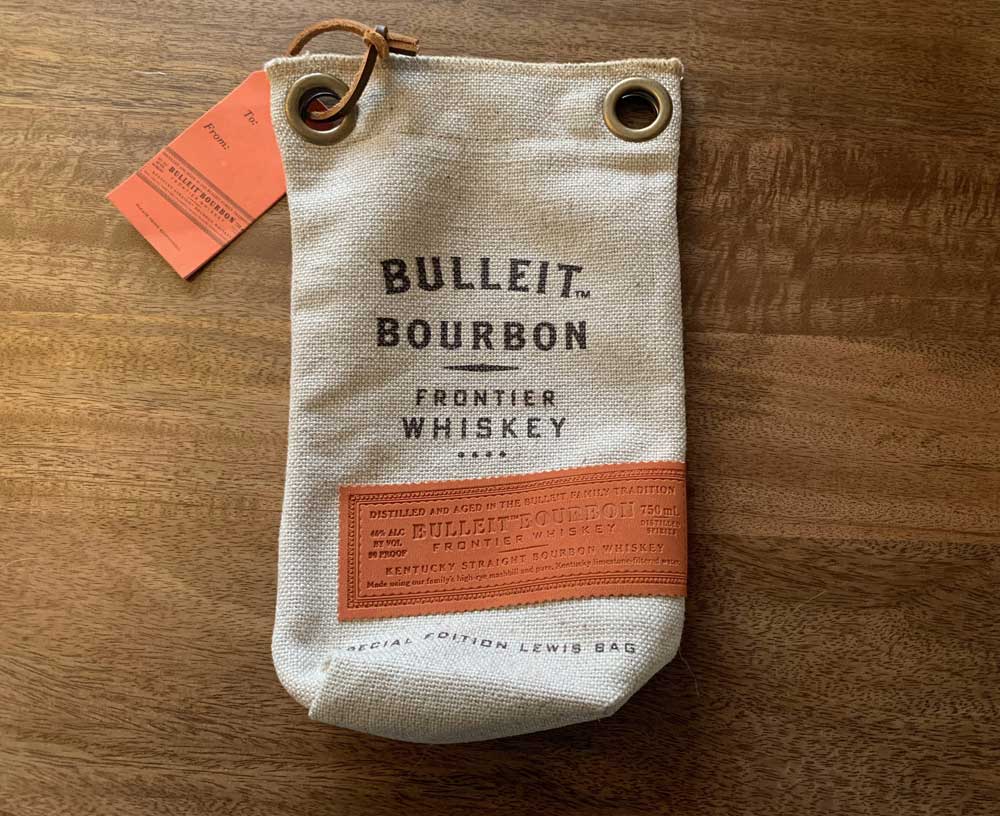 Next up we have the awesome burlap sleeve. Great choice of material. Not fancy but offers a more rugged style and bourbon drinkers appreciate rugged. The color of the bag is fantastic, the dyed lettering is spot on, and the stitched orange label/logo make a definite statement.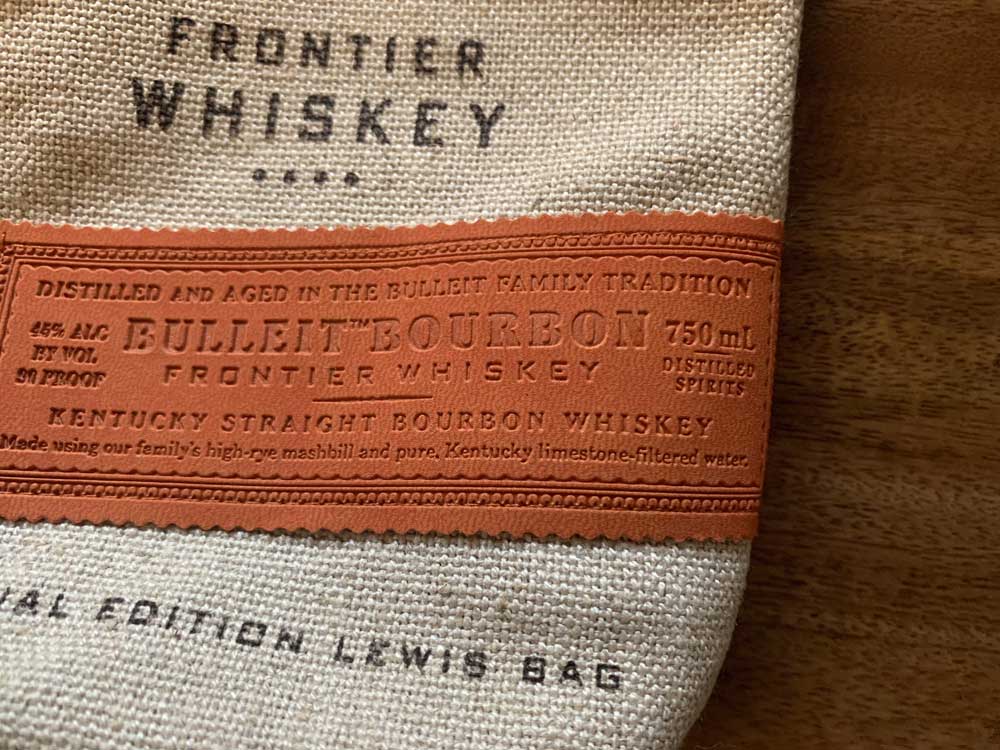 Burly Brass Eyelets
On the top of the bag are two, big brass eyelets that scream burly. Then to refine things a bit, in the hem on top the bag are four magnets that keep the burlap tightly enclosed around the bottle making for a perfectly tailored look. I've purchased suits made more poorly.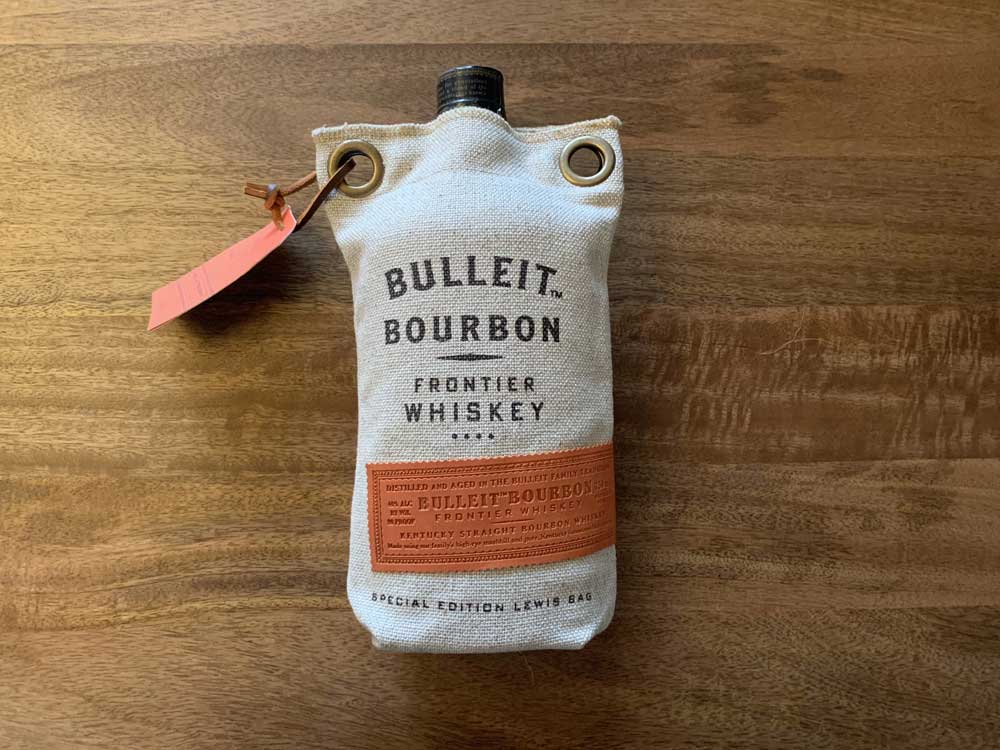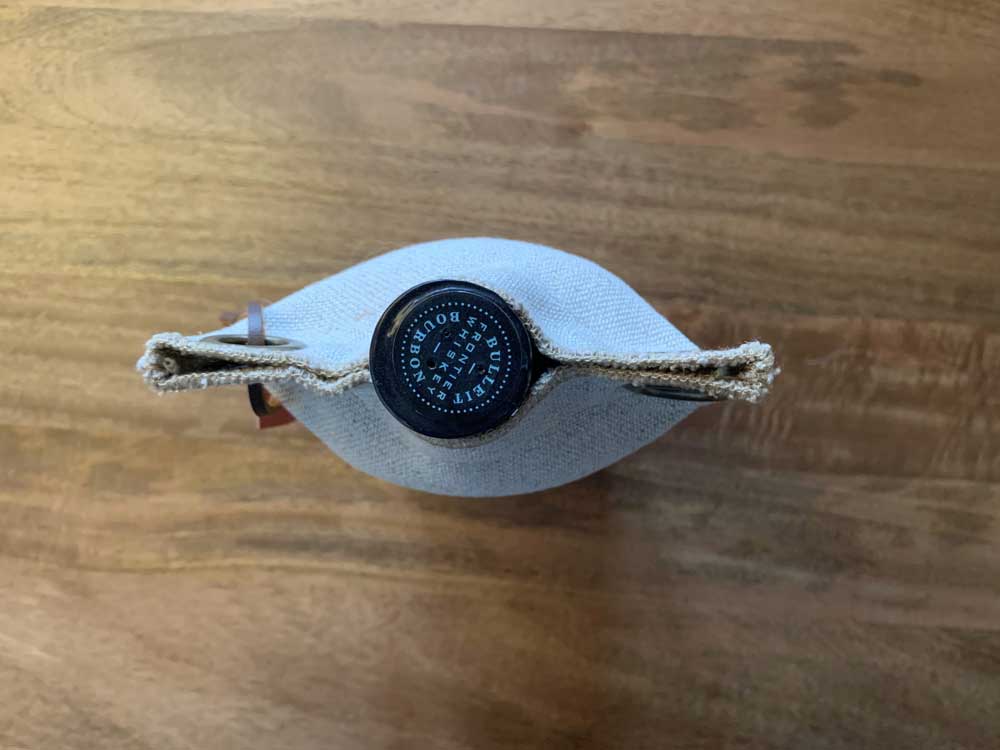 From top to bottom, this packaging is pretty amazing and in our eyes hits a homerun. Awesome colors, great quality, everything is in harmony, not goudy, not pretentious. Just packaging that actually exudes the type of enjoyment that you get from drinking their bourbon in the first place.
The Bottle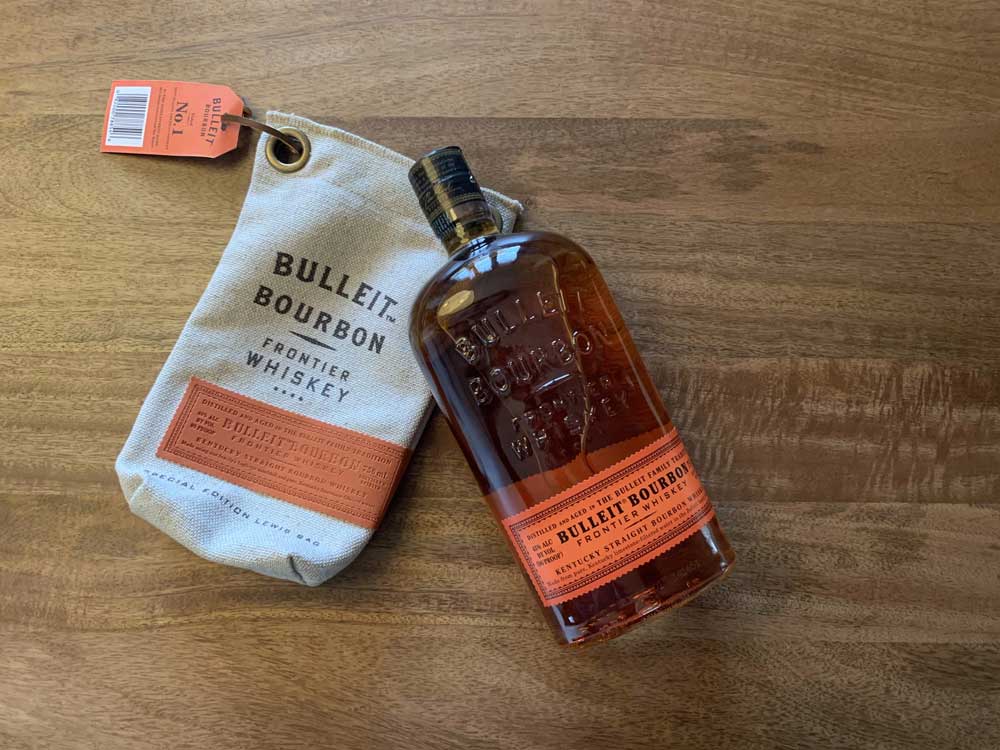 So what's inside the artsy packaging? Just the classic Bulleit Bourbon bottle showcasing the tasty Kentucky whisky. The same tilted orange label. Iconic raised glass lettering. Again, not fancy but iconic nonetheless and still no plastic!
Bottom Line
If you want to give a great gift for the holidays that is sure to please any bourbon drinker out there and a gift that will also appease your inner Greenpeace/climate change warrior self. Give the gift of Bulleit Bourbon in the special edition Lewis bag. Lastly, don't screw it up by slapping on a plastic bow!
Happy Holidays…Styleguyde.com