The latest from our life and style editor, Theresa Johnston.
Champagne and sparkling wines aren't just for special occasions anymore. In fact, there are so many delicious, inexpensive ones out there, we're going to go out on a limb and suggest you pop a bottle of bubbly after work today instead of cracking open a beer. Here's a list of 5 to try now: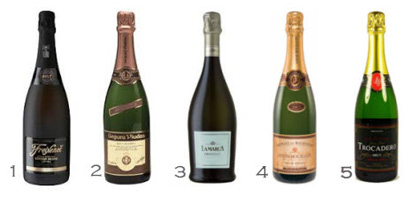 1. Freixenet Cordon Negro Brut
Frexinet Cordon Negro Brut's sleek, black bottle is positively man-chic and will totally intimidate the sorry beer bottles in your fridge. This cava is made in the méthode Champenoise the same way true champagne is made. Tasting notes include apple, pear, and bright citrus. ($12)
2. Segura Viudas Brut Reserva
Listed at #19 in Wine Enthusiast Magazine's Top 100 Best Buys 2011, this classic Spanish cava is tried and true with its fine bubbles and rich, creamy finish. Its elegant flavor profile includes lime, pineapple, and white flowers. ($9.99)
3. La Marca Prosecco
La Marca Prosecco is so food-friendly, it will probably even go with those potato chips you've opted to eat for dinner instead of cooking a real meal. Tasting notes include fresh citrus and a bit of honey. ($10 – $13)
4. Louis Bouillot Perle de Vigne "Grande Réserve" Brut
Not only does this sparkler hail from Burgundy, France, a mere 2.5 hour drive from the Champagne region, but it is also made in the méthode Champenoise, which makes it taste much more expensive than it actually is. Its yeasty and pear aromas are followed by flavors of slow-baked apples. ($13 – $16)
5. Trocadero Brut Blanc de Blancs
Trocadero Brut Blanc de Blancs is hands-down one of the best deals on this list. Its aromas and tasting notes are toasty and citrusy—everything you would expect from a pricey champagne. And for around 10 bucks a bottle? You might think about buying a case (or two), you know, to just to have around. ($9.99)
Can't find these at the grocery store? Get in touch with your local wine merchant or wine shop. They can either help you find the ones mentioned in this post, or steer you to other fine sparklers.