A classic button-down shirt will never go out of style. It's all in the way you rock it. BD Baggies is company designing relaxed, modern Americana clothing, which are made to be staples in any closet. From effortlessly cool button down shirts, to casual khaki pants, to gingham print board shorts. Designer David Mullen who is no stranger to the fashion industry, the Spring/Summer 2012 collection also features women's wear.
Made from pre-washed Oxford cloth, the signature fabric of the BD Baggies collection, it has a special weave. The result is a well-worn and totally comfortable look. These are the pieces you keep in heavy wardrobe rotation. Innovative fabrics and well tailored fits are just more reasons to go out and get some BD Baggies.
Originally created to be the ultimate shirt for US university campus students, the shorts are packaged in a classic laundry bag.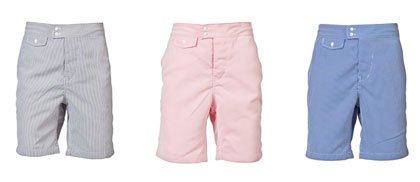 Available in fine boutiques worldwide, as well as online at Fred Segal.