You know when you buy something new and all of sudden become more aware of it all around you?  This is called the Baader-Meinhof phenomenon. And it's a phenomenon I have noticed a lot over the last few weeks.
Ever since trying out the Filson original leather briefcase, I have been noticing briefcases…lots of briefcases.  Briefcases, sling bags, backpacks, slouchers, laptopers, duffles, etc.  They are everywhere – but not all bags are equal. In fact, far from it.  My one huge takeaway from this observation; Filson is more than just the product it creates.  Filson is passion.  Filson is quality.  Filson is refinement.
Filson is Passion
The difference between "status quo" and "exceptional" are in the details. Luxury car makers know it.  Fine woodworkers know it. Filson knows it. The Filson original leather briefcase I received was shipped via UPS.  A brown box on the doorstep, right? Wrong. What I thought was just another corrugated cardboard box destined for the recycling bin turned out to be the trailhead to my Filson journey.
Once opened, the green-hued interior of the shipping box was exposed displaying a perfectly placed printing of the Filson tag-line "Unfailing Goods".  To finish the unexpected, a card strategically embedded in the center of the divider oozed sophistication.  Who spends time creating an experience from a cardboard box?  A company passionate about their audience.  Amazon ships in cardboard and big plastic bubbles. J.Crew you get a shirt in a plastic bag.  Filson grabs your attention from the moment the box is opened and hints at the perfection that is about to immerse you.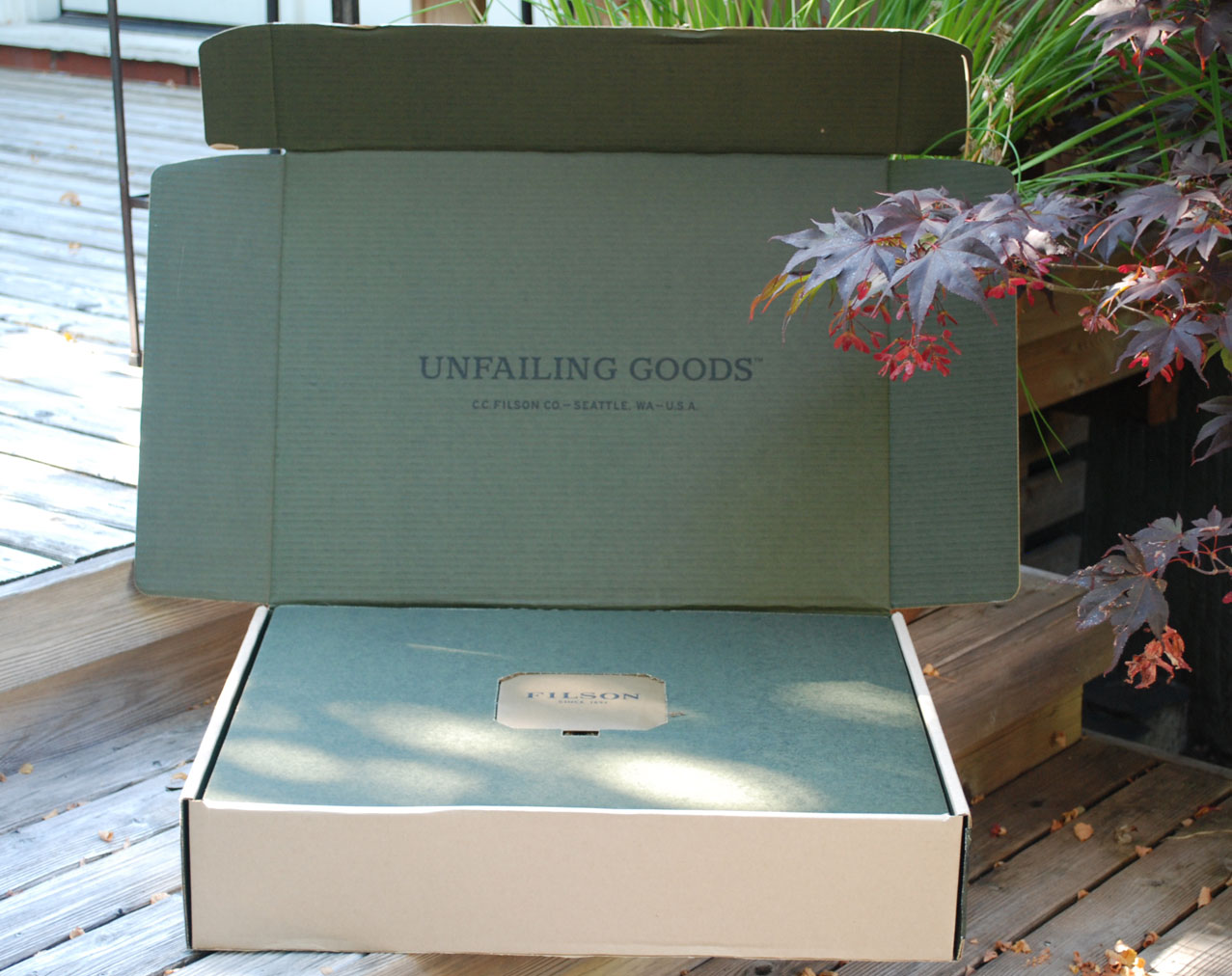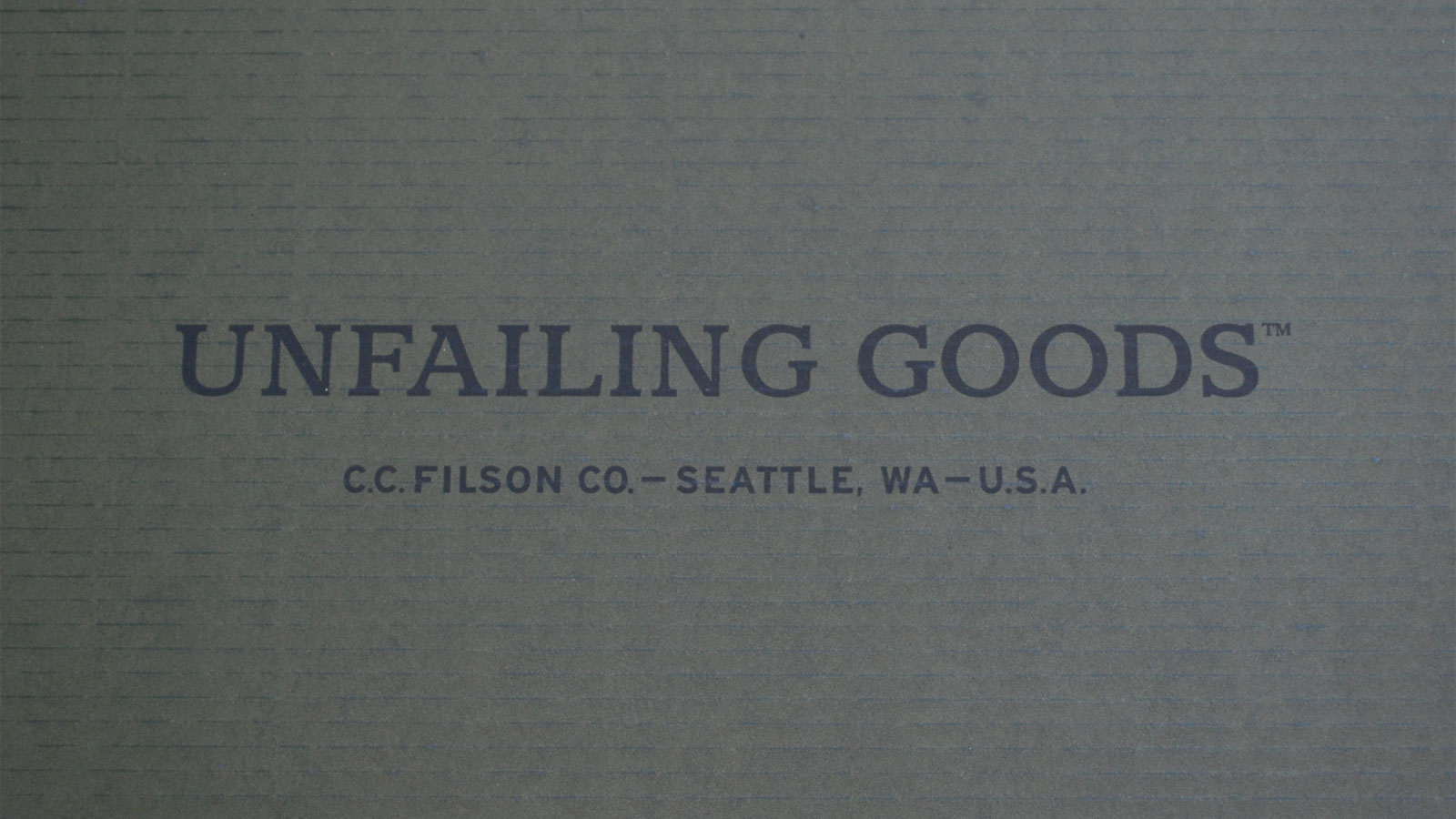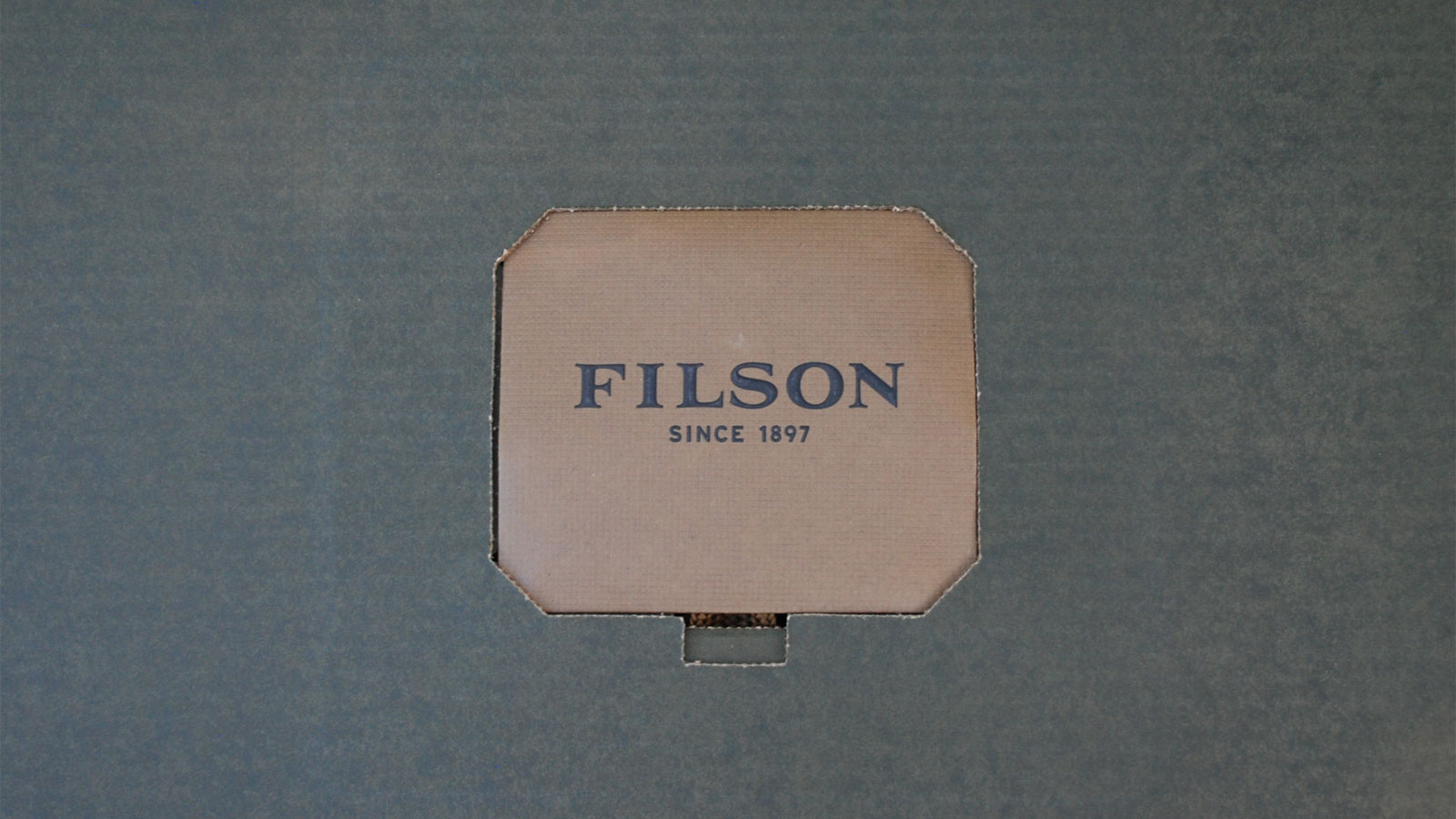 Filson Is Quality
When I finally got past the packaging which I meticulously tried not to ruin, what awaited me was one hell of a briefcase. Wrapped in a heavy canvas bag, I pulled the briefcase out of its protective cover and the first word that came to mind was quality.
You instantly feel how thick the leather is. The vegetable-tanned leather is rugged and built to last. The color is a chewy, deep, rich, chocolate brown but it would not be confused with black. This is the type of leather your kids are going to commandeer later on in life and their kids may finagle from them.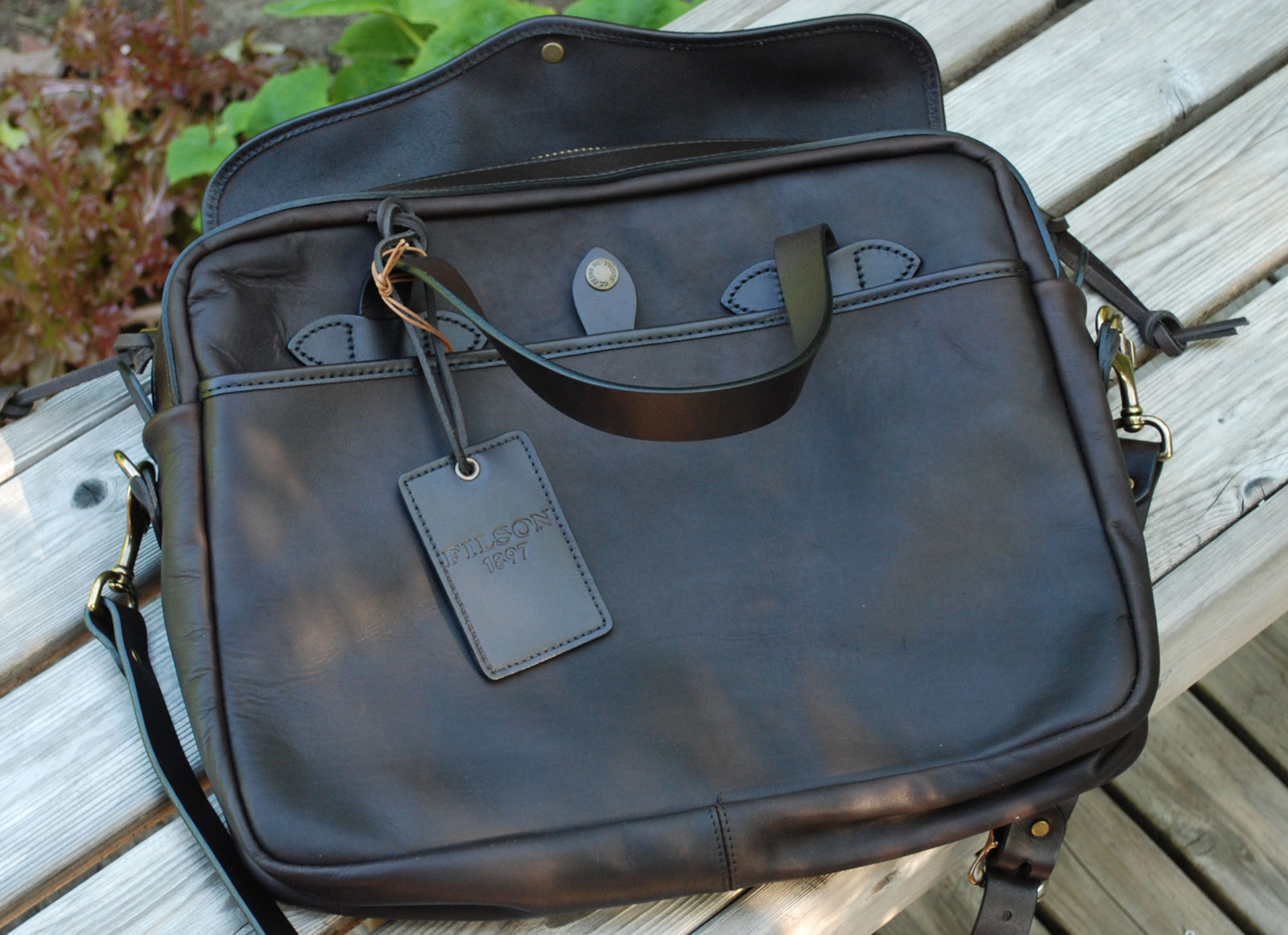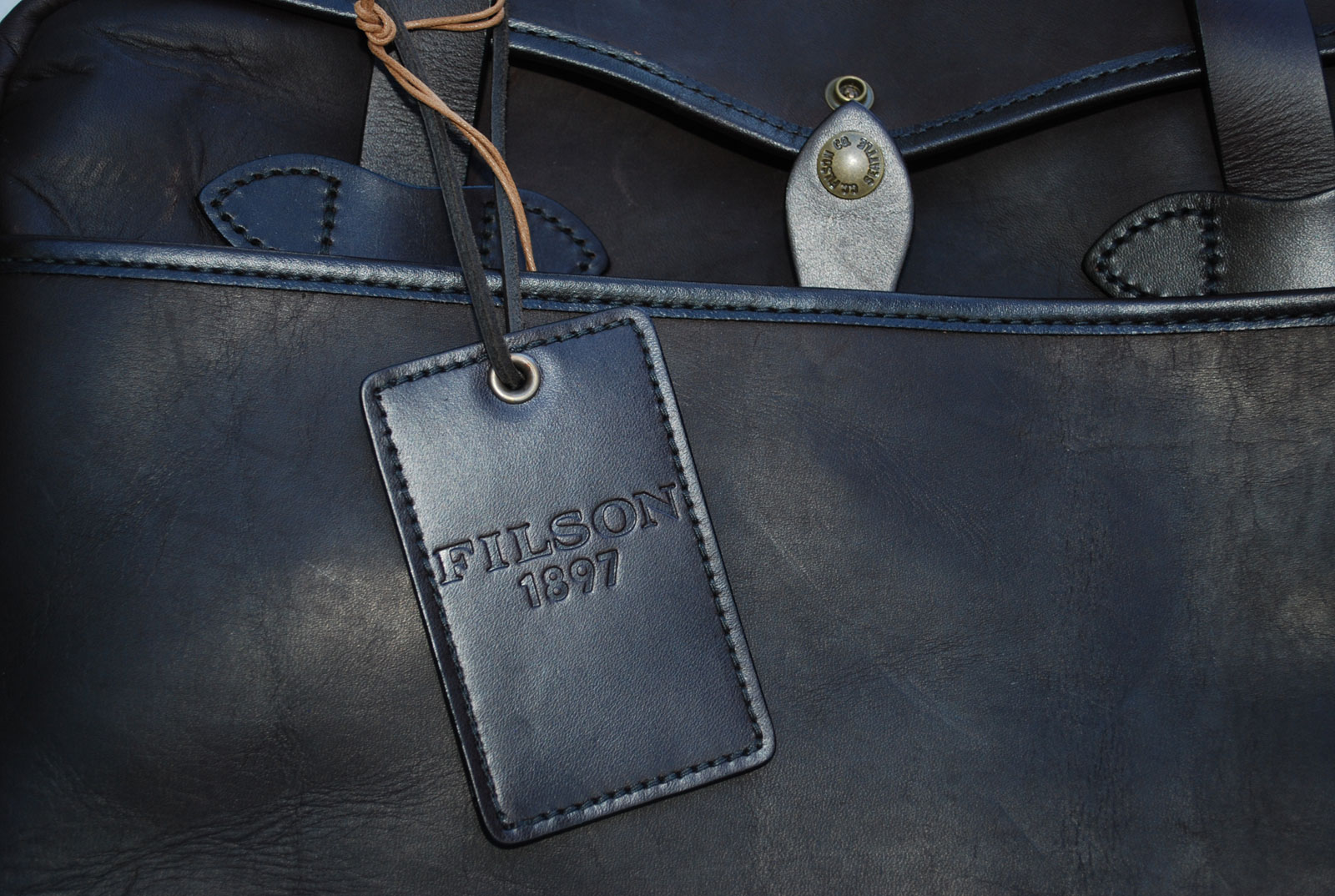 The Filson original leather briefcase is weatherproof and built to stand up to the elements. The zipper is chunky brass that zips smooth securing the contents. Two large side pockets help divide the bag into three distinct areas. The hardware and fittings are solid brass. Filson also includes bridle leather straps and reinforced bridal leather trimming which adds elegance and endurance.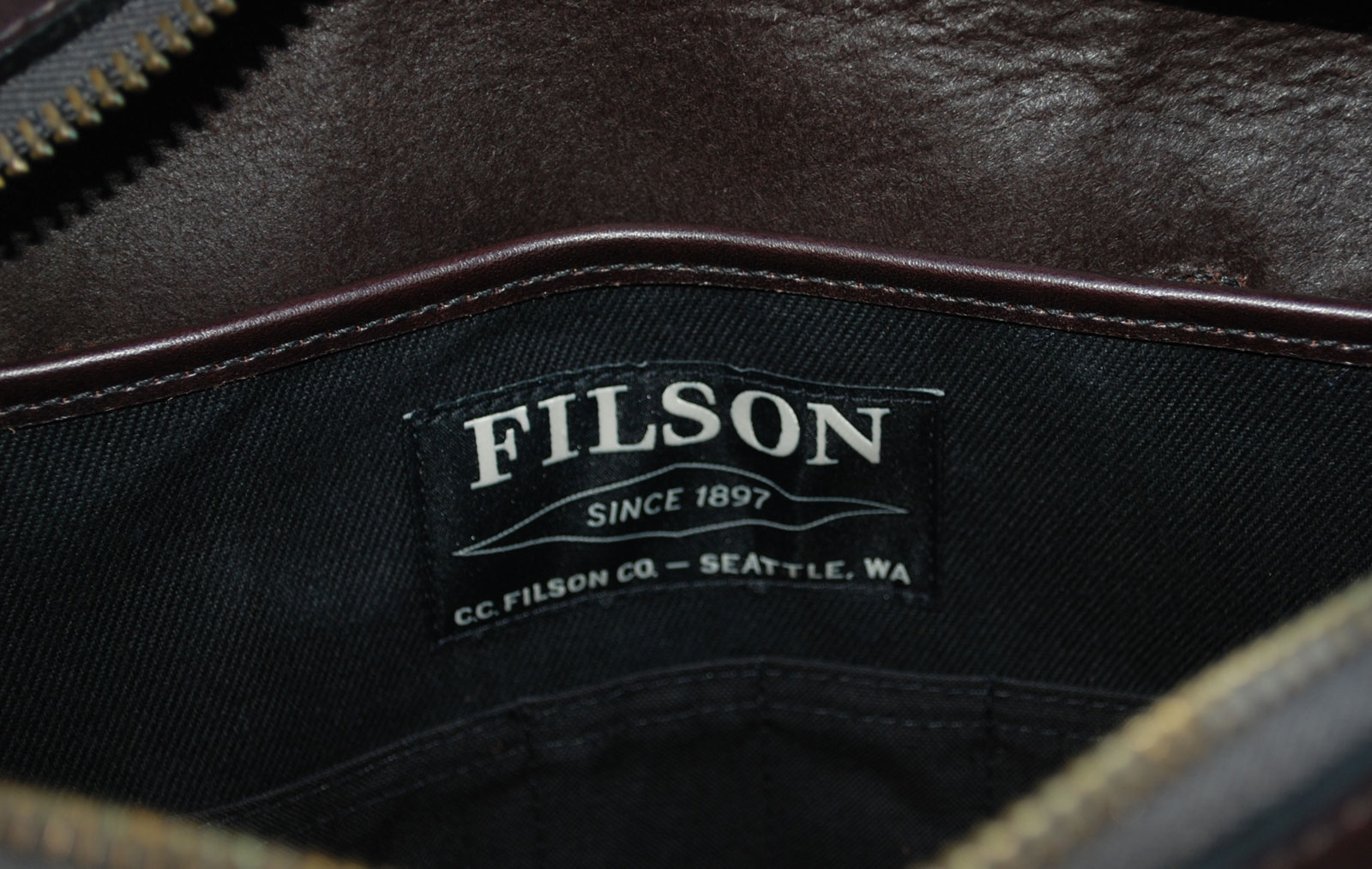 Filson creates an experience from their craft. A distinct feeling that the bag represents the company behind it. I am holding purpose created in leather form, holding thoughtful design based upon an execution of quality that is so rare in today's mass-produced society.
The Filson tag-line is "Unfailing Goods" but we say talk is cheap. What does Filson do? Only back up their statements with a lifetime guarantee. That's bold and a commitment only made by those who believe in what they do and the quality of their product.
More photos from Filson: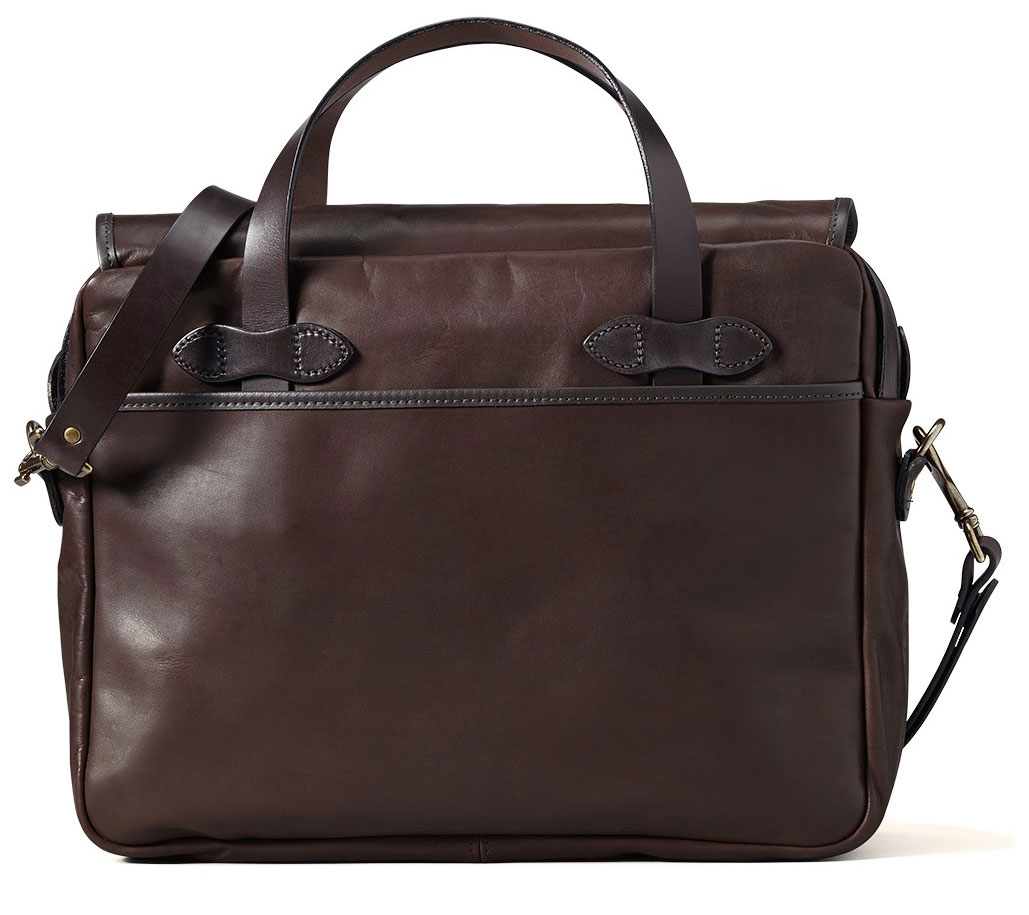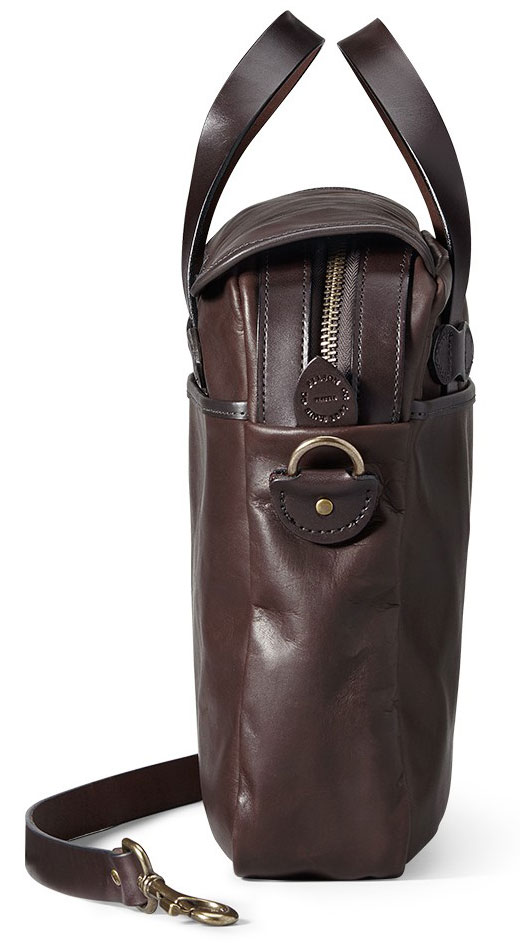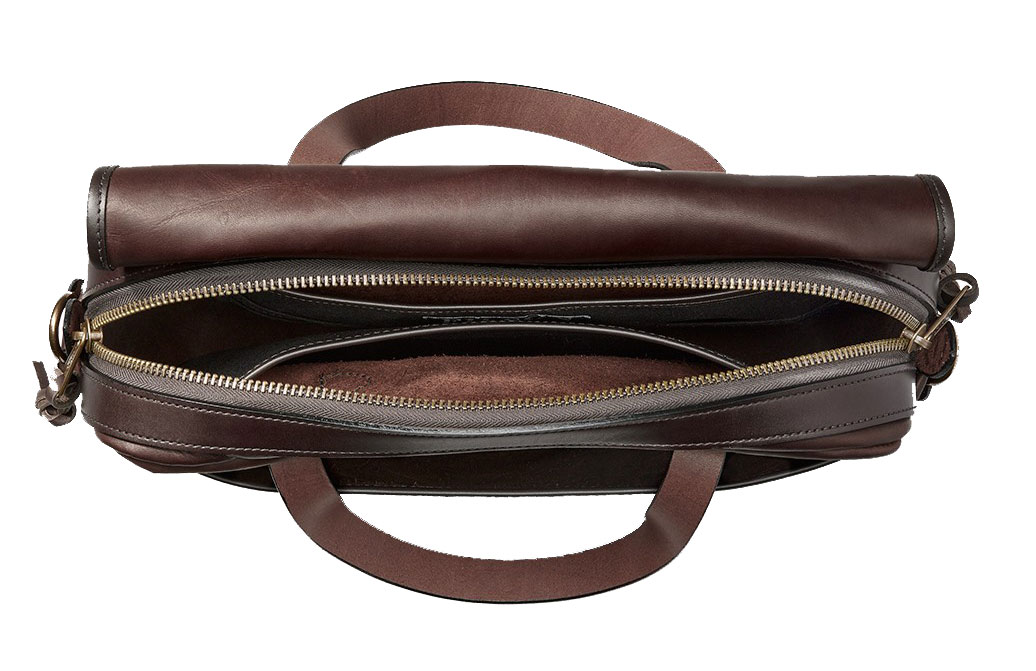 Filson Is Refinement
Immediately after picking up the briefcase I was hit by the smell of rawhide. Memories of polishing my dads leather shoes when I was a kid came rushing back. The Filson original leather briefcase was winning me over from all sides and senses. Once you understand the quality Filson provides, only then do you begin to notice the refinements. How the artisan perfects their craft.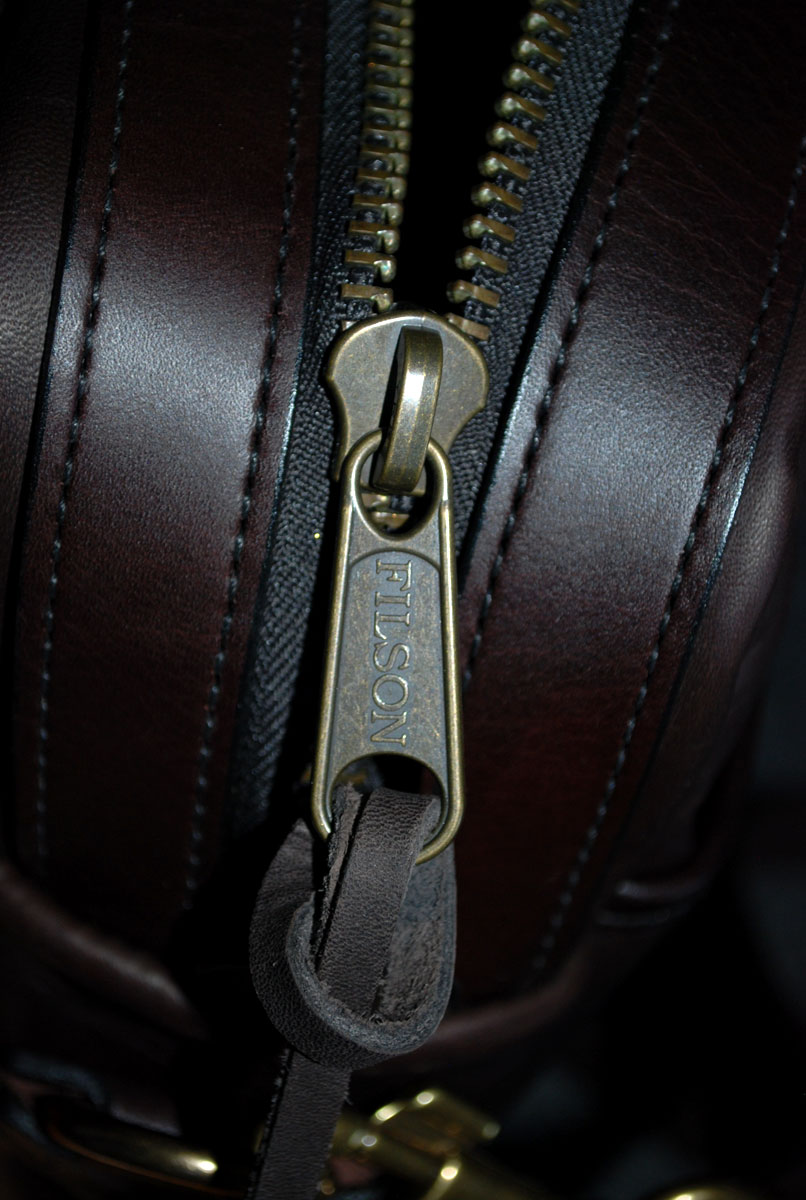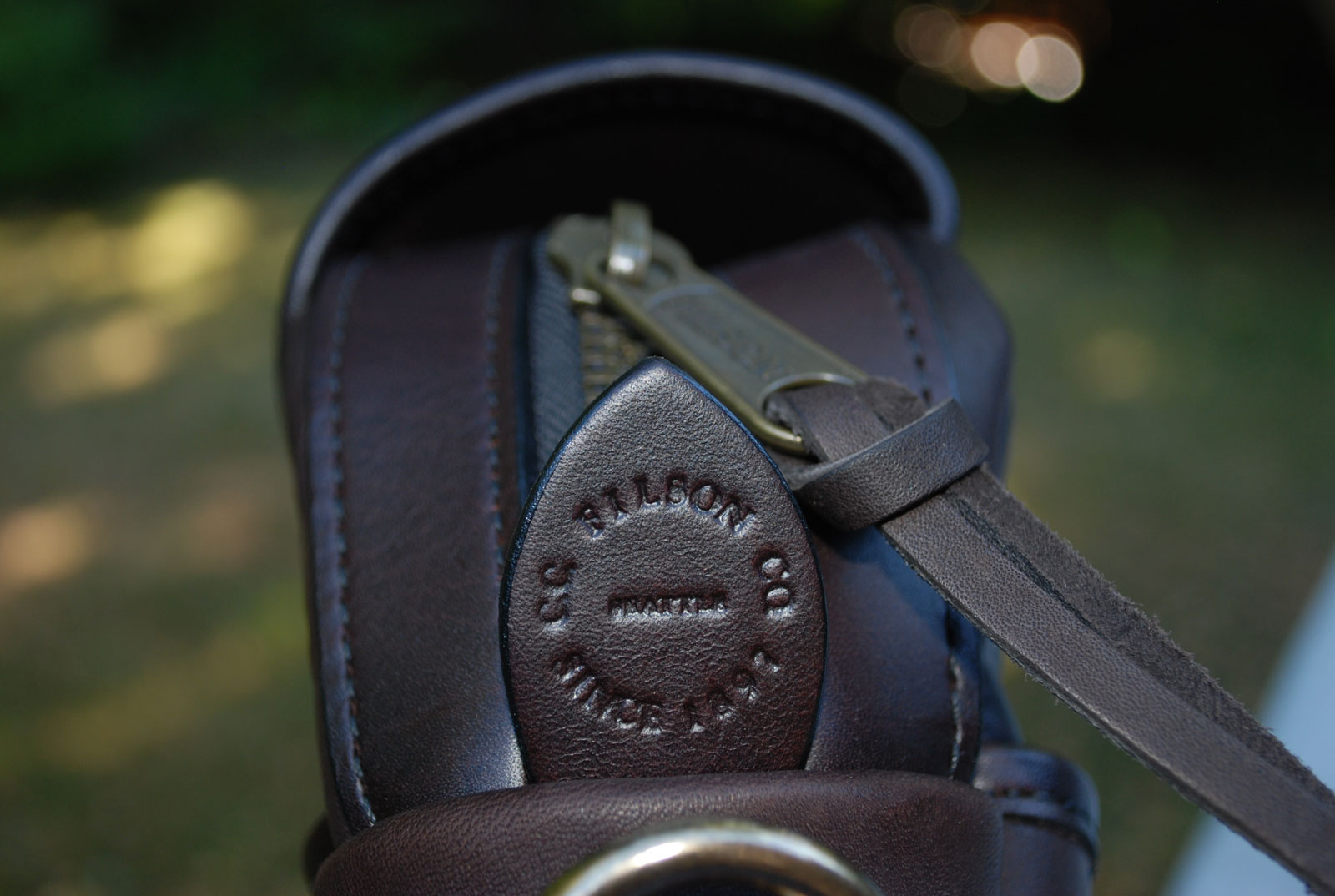 So many strategically placed accents without the need for big branded logos or embellishments. Filson lets the vegetable tanned leather be the showcase and the Filson brand play a subtle supporting role. The briefcase and its refinements are nicely balanced. Again when a company gets it right, it shows. The felt-lined leather strap feels burly yet classic. You can envision how the felt will compact and mold to your shoulder over time.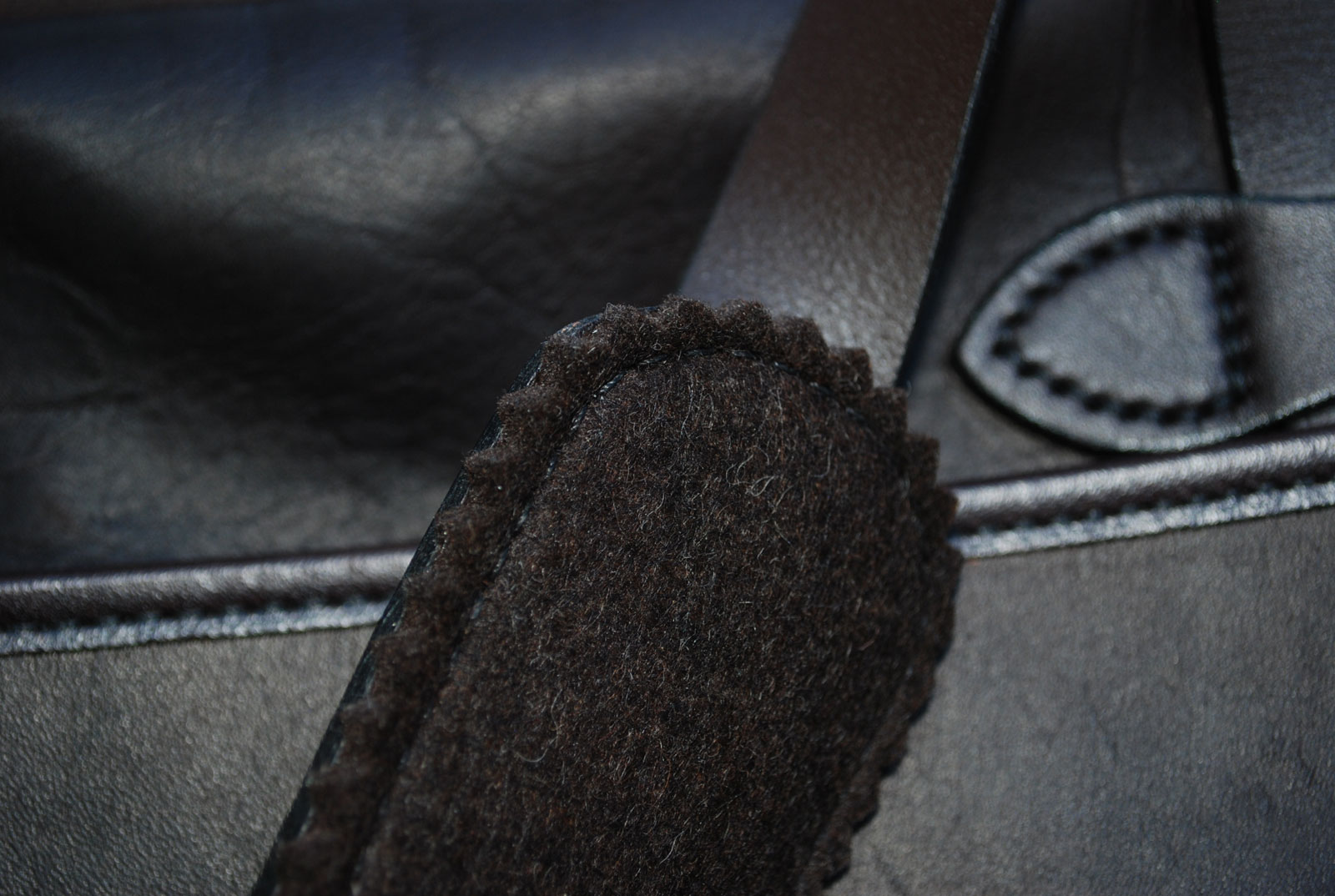 The brass hardware is substantial but not gaudy and engraved with a subtlety that strikes a harmony between being noticed and not being noticed. The briefcase is handcrafted art, pure and simple.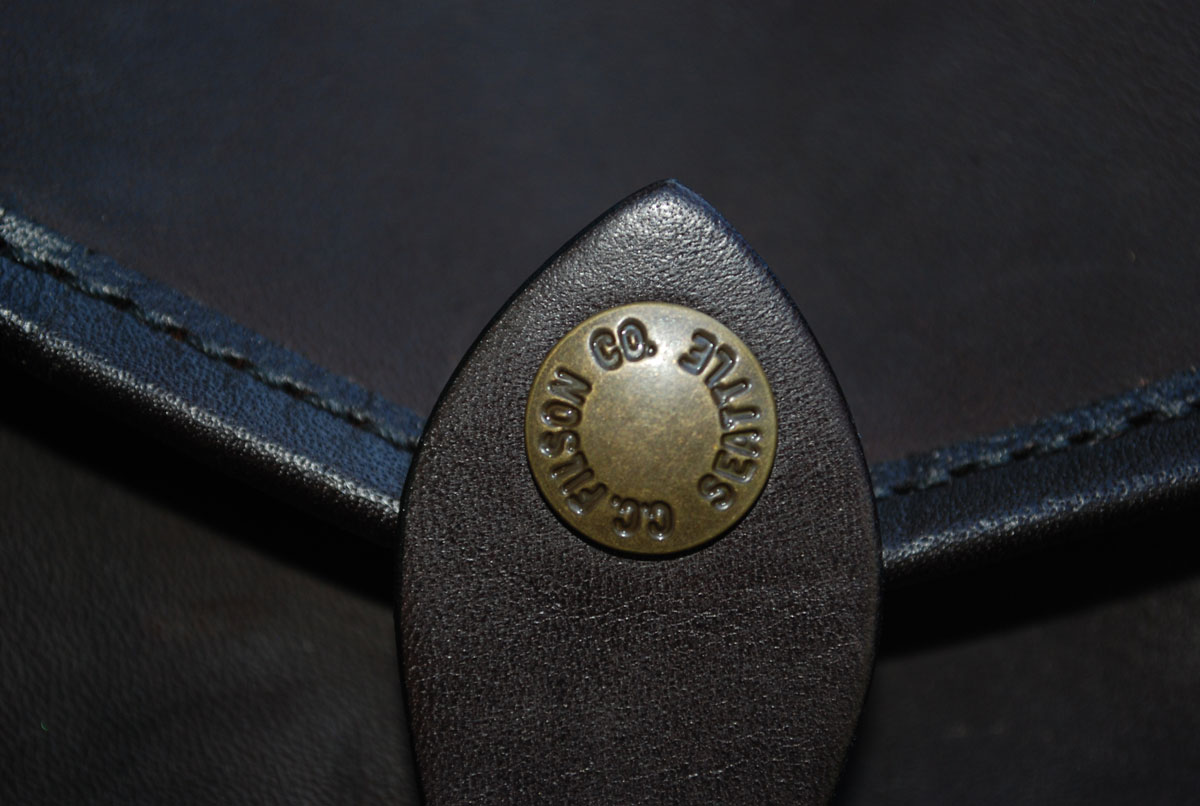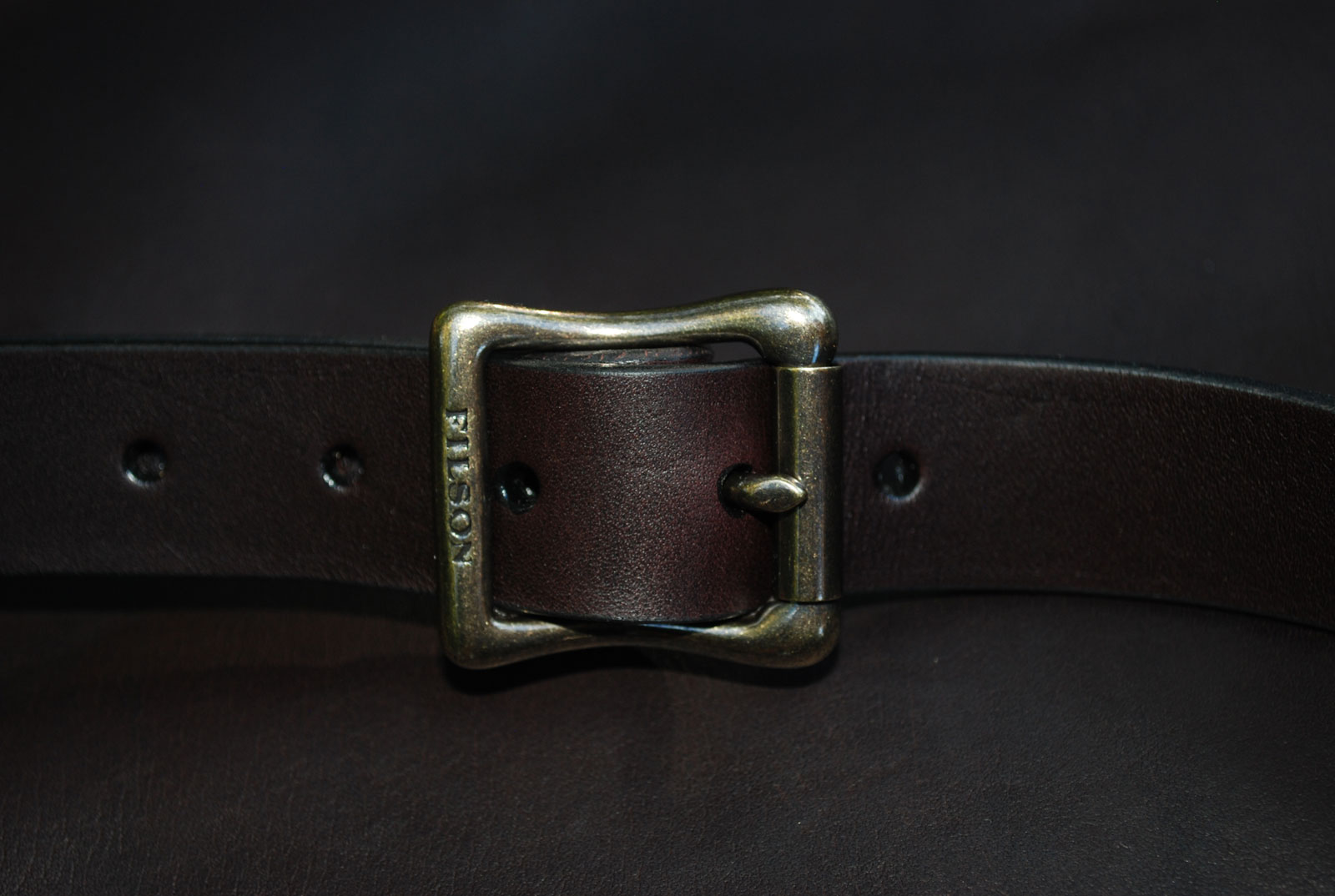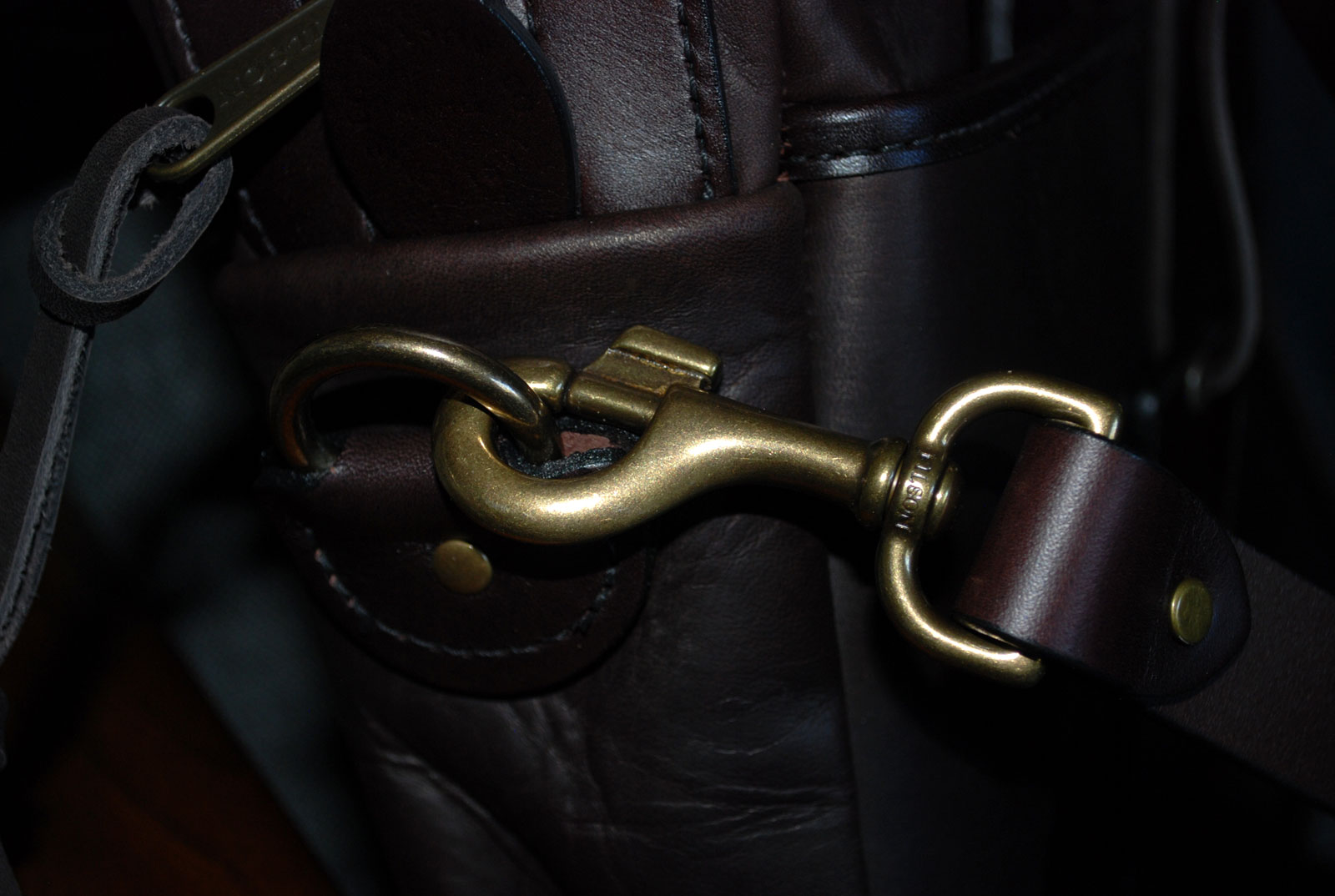 The design of the briefcase holds a classic look that would have been great decades ago and will be years to come. It will transcend the genres from college to hipster to Wall Street.
Filson Q & A
We caught up with Jeremy Bennett, Manager of Product Development – Luggage Bags and Accessories for Filson to ask a few questions about the brand, their Weatherproof bag collection and the product cycle.
What goes into the development of a new bag design?
There are many steps involved in the creation of a new bag design. To start, the creative and merchandising teams meet to determine what could be added to our current line and what new types of categories or collections we want to launch for the upcoming seasons. This would also include determining the appropriate styles needed for a new collection launch (i.e. Tote bag, Backpack, Duffle bag etc.).
Once the styles have been determined, that's when the fun really starts. This is when the creative team begins to discuss the products and designs with the product development teams. In these discussions they hammer out details like end use and purpose, material performance requirements, color pallet and overall styling in the form of sketches and/or reference samples. At this point our Product Development teams take the specified guidelines and start to source, and develop our world renowned materials.
Here at Filson we have very high expectations for the materials we use. Extensive research, development and testing is done to determine whether the materials embody the characteristics necessary to withstand the harsh conditions our customers encounter.
At Filson, purpose has always driven design. This philosophy is in the forefront of our design and development team's minds when new bag designs begin to take shape. This is true in every aspect of our bags – everything has a purpose. Being that we rely heavily on the strength and durability of our materials, this can become a challenge when designing, simply because of the sheer thickness and weights of these materials. This challenge helps keep our designs very tight and simplified. No frills.
What are the key qualities of a Filson bag?
The key qualities in a Filson bag are a direct reflection of the three main things Filson prides itself in. First, they're manufactured here in our Seattle factories and we've increased our manufacturing capacity so that we can specialize in sewing and assembling tougher, thicker materials. You'll also never find a piece of a Filson bag that isn't purpose-built. Each feature of each bag is designed with functionality in mind. Last but not least, a Filson bag comes with a lifetime guarantee. We source the best raw materials so that we can make the promise of unfailing goods.
How has your background and career experience shaped your approach to Filson product development?
Being a former member of the armed forces where every piece of equipment I carried or used was designed with pure purpose, strength, and practicality, it has become embedded in my thinking throughout my own years as a craftsman, maker and designer. To answer your question, I feel my background doesn't really shape my approach to Filson development because it's already the same shape. It's natural for me.
Describe the Filson man in 5 words or less.
Industrious, Uncompromising, Rugged, Alive
What are the core values of the company and how are they evoked in product designs?
Filson is committed to always producing the best products for work and activities in the outdoors. We've always guaranteed every item purchased from us and that guarantee starts with product design.
Where do you find inspiration for the designs & product features?
Fortunately for us here at Filson, there is over 100 years of physical and visual archival inspiration from the different industries we've impacted in the PNW and around the world. As a designer and developer, this is a valuable asset that we draw on constantly for inspiration. In addition, we have such a historical connection to many of our customers through generations of family members that in some way or another live what we like to call "The Filson Life." Because of this generational connection, our customers are very passionate about our products and provide tons of feedback and suggestions that help our teams design and develop the very best products the market has to offer.
What is your favorite style from the Weatherproof collection?
I carry the Original Briefcase everyday and absolutely love it!! I've had it now for about 6 months and the leather is just getting nicer with every passing day.
What is next for Filson bags?
If I told I'd have to kill you! Ha. No, we are going to continue to round out the leather collections, as well as the new nylon line, which we are very excited for!
My Filson Journey Has Just Begun
When we heard Jeremy's answers, they reinforced what we had already discovered. Filson is handcrafting products to fulfill the needs of its customers. Their products are created to serve a purpose and last for generations, not appease a trend. Every product Filson makes is expected to outlive you. That is a company committed to quality and this shows itself over and over in their product.
You can buy the Filson weatherproof leather briefcase at Filson for $795.
Leave a comment or share your Filson story.