Underwear of any kind is a personal thing for me. I like what I like and most guys tend to be the same. Tighty-whities I am not as I don't find them comfortable. My 3 year does but not me. I am also not a silk boxers kind of guy. To me silk boxers are one step up from commando. I prefer support, not too much, but something has to be there and my go to underwear time and time again has been Polo cotton boxer briefs from Ralph Lauren. I have been wearing them for years and I replace then when the cotton gets thin enough that it cannot hold it's athletic shape.
Recently I received a couple pairs of ethika boxers to try on. What I instantly liked was the colors. With my Polo's I have the choice of white, gray, blue, or black but the ethika pairs I received were green and yellow. Fun, vibrant colors that were both bold and pleasant at the same time.
I pulled out my first pair and immediately noticed the length which was longer than what I'm personally used to. The inseam was 9 inches where my Polo's are 4 inches. Visions of the perfect fitness boxer brief came to mind. A cross between compression shorts and boxer briefs without the shiny spandex look. My interest was somewhat piqued. Below is how I broke them down: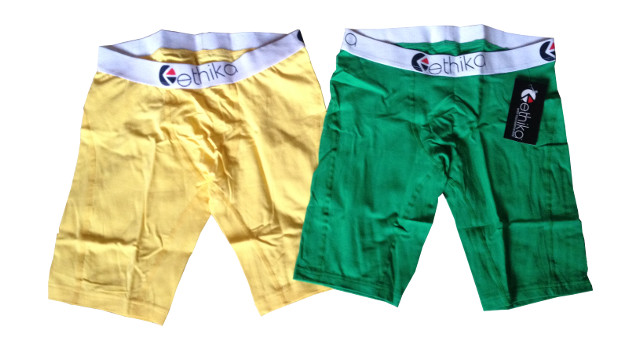 The Look: Compression shorts meets soft cotton. Nice logo on the elastic waistband. Good size on the elastic waist band. Good contrast on the elastic waistband to give them a hip feel. Packaging was great as well.
The Feel: Soft cotton. 95% cotton, 5% spandex. Not scratchy at all. More on the thin side but this is due to the weave of the cotton. The quality of the cotton is very nice.
The Fit: Tight. I tried on the medium and they fit like compression shorts. I wear a 33 in everything and have rather skinny legs. The medium fit great in the waist and had a snug fit on my legs. Yes, they fit as compression shorts would.
Overall I loved the look and the feel. They were a little tight for me but only because I don't typically wear tight underwear. One thing I did like was the thinness of the cotton. My boxer briefs sometimes bunch up when pulling on tighter jeans or slimmer dress pants and you can see the rolls of bunched up cotton underneath. You would not get this with these. I think with thin dress pants these would be great.
I do have one gripe with these boxers and this is purely personal issue. Instead of a tag, ethika painted on the care instructions. The paint was a dark gray and the contrast to the green pair was tough to see/find. I tend to use the tag as a sort of brail symbol to find the back so I put them on correctly in the morning. Especially now that it is winter and dark when I get up. It took a few seconds to find the front vs. back in the middle of the day so I'm guessing in the morning without my coffee, I might put them on backwards a couple times.