From our Life & Style Editor, Theresa Johnston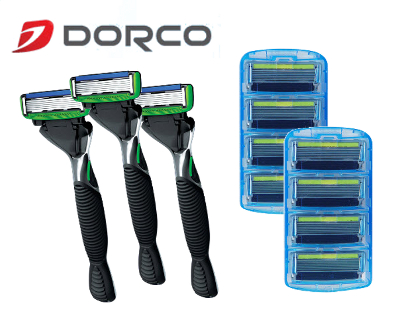 The price of replacement cartridges for your disposable razor can be, well, baffling. Razor cartridges are really small, made of seemingly cheap plastic, and never, ever last as long as you need them to. Yet they can be as much as $30 for a set of five. The cost is nowhere near the end of the world and a good shave is worth it, but I'm sure you could find a more exciting use for your hard-earned cash (e.g., a
tweed jacket
, a
Sockscription
, or a great bottle of
bubbly
).
So if you'd like to spend a bit less on a good, clean shave, let me introduce you to Dorco Pace razors. The Dorco company has been making inexpensive, high-quality razors since the 1950s. These razors are the same quality and have the same features as leading brands but they cost, on average, 30% less.
The Dorco Pace SXA1000: 6 Blade System includes one handle, two cartridges and only costs $4.50. Each razor cartridge boasts six blades and a lubricating strip loaded with vitamin E and aloe. A set of four replacement cartridges is only $3.99.
The SXA1000: 6 Blade System and many other razors are available at the Dorco Online Store.